On Nov. 6, Florida residents will vote yay or nay on many ballot items. One item that has a lot of talk around it is Amendment 4, which could automatically restore rights for about 1.4 million Floridians who lost them due to being convicted for a felony.
During a rally on Friday, members of the South Florida Muslim community became part of the voice that's urging Floridians to vote yay for Amendment 4.
Amendment 4 was designed to automatically restore the right to vote for former felons, except those who were convicted of murder or a felony sexual offense, after they complete their full sentences, which include parole and probation. Currently, people with prior felonies are not allowed to vote in Florida, unless they petition the state, which is a long and difficult process. Florida is one in four states that do not give prior felons the right to vote.
Emgage, a community organization that empowers Muslim voters, led the effort to put on the rally.
"We want to show that Amendment 4, the restoration of rights, transcends the issue of faith, color, and it's an issue that affects all of humanity," said Ammar Ahmed, the South Florida director for Emgage Foundation.
Muslims across Miami, members of the Christian community and people from different races attended the rally. It took place right in Liberty City, at Masjid Al-Ansar, which was the first Islamic center in Miami. In the past, social and civil rights giants such as Muhammad Ali would pray at that very building when he had fights in Miami.
"The reason why we picked this specific Islamic center is because of its historical roots to the Civil Rights movement, and this is a civil rights issue," Ahmed said.
Dwight Bullard, former politician and political director for New Florida Majority, said to audience members that they had a responsibility because "1.4 million people don't have the right to vote. We have an opportunity to change that. I need you to understand your responsibility."
Also present were two Muslim politicians from out of state: Cleveland Councilman Basheer Jones, and Minnesota Congressman Keith Ellison.
Ahmed said they both added value to the rally.
"Basheer Jones has a historical connection, I would say. His mother was an activist, he understands the struggle, the everyday common struggle, and Keith Ellison is of that same vein," Ahmed said.
Jones tied struggles of social justice to spirituality and religion when he addressed the audience.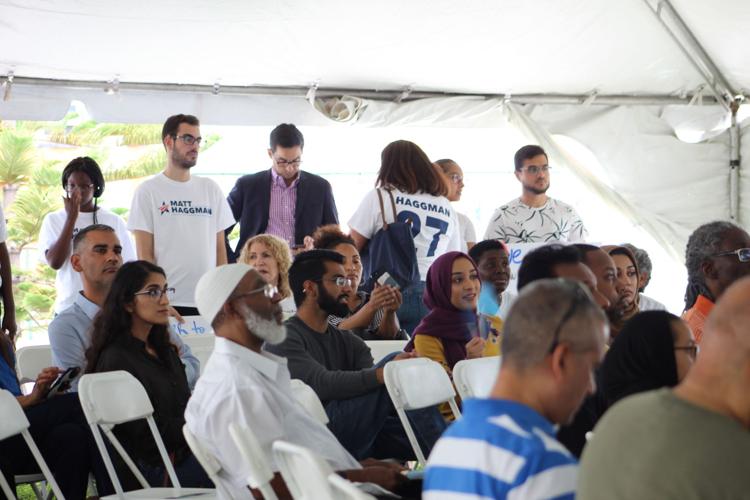 "How are we calling ourselves Muslims, but we're not on the front lines of justice?" he said. "It don't matter if you're Muslim or not, the fact is that we have Black and brown people in this country suffering."
He also took stories and parables from the Holy Quran, the main book of the Muslims, and related it to Amendment 4.
Imam Nasir Ahmad, the Imam of Masjid Al-Ansar, was happy to host the rally at the masjid. He said restoring the rights to the citizens is a natural act of mercy.
"When the woman is pregnant with a child, that's the first state of mercy, and it's also the first prison. So, when the human being comes out in the broader society, we expect to see the same thing in the broader society that we see in the womb of mother, which holds us in our discipline, but also gives us mercy," he said. "So, we see it as an extension of the womb, and some people in society have forgot how to relate law with human nature. So this is a great effort to continue that."
Dexter Gunder, 39, is a member of the Florida Rights Restoration Coalition and was also present and recognized by Ellison. Gunder recently did two years behind bars and has been out for about 10 months. He's working with Florida Rights Restoration Coalition to educate people about Amendment 4 and get people out to vote.
"We're going hard out here in the community, talking to the community, and trying to get people to vote for Amendment 4," he said.
Gunder said it hurts that he can't vote, but he has a good feeling that the efforts to promote Amendment 4 are going to work. He said many of his friends are also in the same position that he's in.
"Even guys that's been out for a long time still don't have their rights back," he said. "Like I have my father, he doesn't have his rights back yet, so it's gonna be a big help for everybody."
Although there were members of varying faiths and backgrounds at the rally, they all agreed on one issue.
"Islam, Christianity and Judaism should not be separate from justice. Amendment 4 must pass, not just for today, but for those who will come after," Jones said.